Please follow and like us: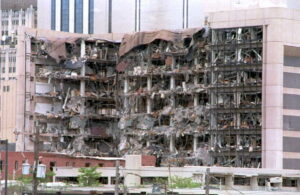 Researcher Richard Booth joins S.T. Patrick to discuss the 1995 Oklahoma City Bombing. Booth is a long-time researcher on the case and has tackled such crucial angles as the FBI's changing story on John Doe #2, the FBI continuing failed infiltration of right-wing groups, and individuals such as Andreas Strassmeier, Roger Moore, Timothy McVeigh, Terry Nichols, Danny Coulson, Weldon Kennedy, and more. Can we know who John Doe #2 may have been? Why did the FBI deny #2's existence after giving a detailed physical description of him? Was McVeigh ever intelligence? Did the CIA have a role? Why did Danny Coulson's story about how he first heard about the bombing change? What are PATCON and VAAPCON? All this and more on this episode.
To purchase garrison.: The Journal of History & Deep Politics, go to http://www.lulu.com/spotlight/MidnightWriterNews. If you'd like to support the efforts of the "Midnight Writer News Show" and garrison.: The Journal of History & Deep Politics, you can send donations via PayPal to [email protected]. Thank you to everyone who has supported the show and the magazine.
You can now listen to STP Radio: "Reliving your greatest memories, one song at a time" at www.wstpradio.com. There, you'll hear the best of the late 60s through the mid 90s, with some of the best national and local hosts available.
The new outro song is "Fallen Kingdom" by Bennie Knuckz, an independent artist in Miami.
Please follow and like us:
Podcast: Play in new window | Download