Please follow and like us: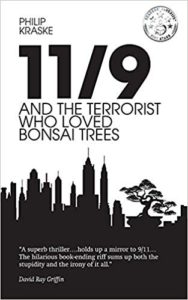 In his novel 11/9 and the Terrorist Who Loved Bonsai Trees, author and expatriate Philip Kraske wrote about an event similar to 9/11, a mirror image (hence the title 11/9), a government wanting to cover up the real motives of their own false flag, and a very average yet engaging girl who gets caught in the middle of it all and then is labeled a terrorist.  Kraske joins S.T. Patrick on this episode of The Midnight Writer News Show  to discuss his time in Spain, the 9/11 movement, his entrance into the community, where he believes the movement needs to go, the Spanish perception of Americans and America, the formation of his characters, and much more.
Philip Kraske can be found at his own website, PhilipKraske.com. His novel can be purchased at Amazon and wherever good books are sold.
Please follow and like us:
Podcast: Play in new window | Download