Please follow and like us: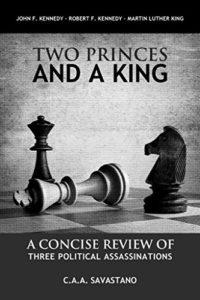 Author and researcher Carmine Savastano is back with S.T. Patrick to discuss the Executive Action program, the CIA's Guide to Assassinations, William Harvey, QJWIN, WIROGUE1, and much more, including the 2019 Democratic field of candidates and a bit on the late Jeffrey Epstein.
Carmine Savastano is the author of Two Princes and a King, and he is the curator of TPAAK.com. He has sent along the following references to correspond with the episode.
References:
Reference 1: C.A.A. Savastano, (March 7, 2016), A Brief History of Executive Action, TPAAK Blog, tpaak.com
https://www.tpaak.com/tpaak-blog/2016/3/7/a-brief-history-of-executive-action
Reference 2: C.A.A. Savastano, (October 30, 2013), Political Assassination and the Unsigned Murder Guide, TPAAK Blog, tpaak.com
https://www.tpaak.com/tpaak-blog/2013/10/30/political-assassination-and-the-unsigned-murder-guide
Reference 3: C.A.A. Savastano, (January 16, 2018), The Man with Plans, TPAAK Blog, tpaak.com
https://www.tpaak.com/tpaak-blog/2018/1/14/the-man-with-plans
Reference 4: C.A.A. Savastano, Primary Evidence Collections, Project ZRRIFLE, tpaak.com https://www.tpaak.com/project-zrrifle
Reference 5: C.A.A. Savastano, Who was QJWIN?, TPAAK Blog, tpaak.com
https://www.tpaak.com/tpaak-blog/2015/8/1/who-was-qj-win
Reference 6: C.A.A. Savastano, Who was WIROGUE-1, TPAAK Blog, tpaak.com https://www.tpaak.com/tpaak-blog/2015/12/2/who-was-wirogue-1
Reference 7: C.A.A. Savastano, Who was WIROGUE-1 part II, TPAAK Blog, tpaak.com
https://www.tpaak.com/tpaak-blog/2018/5/22/who-was-wirogue-1-part-ii

Please follow and like us:
Podcast: Play in new window | Download