Please follow and like us: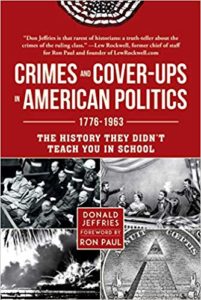 Author, journalist, and podcast host Donald Jeffries joins S.T. Patrick to discuss his new work Crimes and Cover Ups, 1776-1963: The History They Didn't Teach You in School. In tonight's episode, Jeffries discusses his reasons for writing the book, why founder James Otis is largely forgotten, Americans' bout with historical illiteracy, the Thomas Jefferson controversies, Adam Weishaupt and the Illuminati, the Andrew Jackson debate, his own contentions with the legacy of Abraham Lincoln, the Lincoln assassination, and the Imperial Presidency. Jeffries has been the most frequent guest on the "Midnight Writer News Show," appearing six times (to date). He has discussed Hidden History, Survival of the Richest, Huey P. Long, the death of John Kennedy Jr., Chappaquiddick, and Crimes and Cover Ups, 1776-1963. All of Jeffries' appearances can be heard for free in the Midnight Writer News Show archives section of the site.
Donald Jeffries can be followed at his blog, Keeping It Unreal. His works can be purchased on Amazon and wherever good books are sold.
Please follow and like us:
Podcast: Play in new window | Download