Please follow and like us: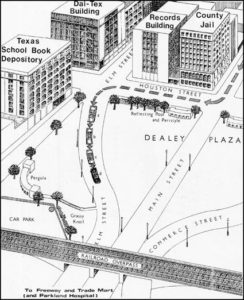 Author and researcher Brian Edwards joins S.T. Patrick to discuss Dealey Plaza as the site of a tactical operation, and then the witness testimony of Ed Hoffman. Edwards is singularly unique in discussing both topics. He was a former law enforcement officer and trainer, and he has over ten years of counter assault experience. When he looks at Dealey Plaza, he looks at it as more of a tactical operations site than a historical landmark. On this episode, he discusses Dealey Plaza as such a site. How would the perfect operation in Dealey be performed? What are the risks? How can the risks be overcome? How many personnel would be required? Where would the personnel be located? Edwards was also the co-author, with Casey Quinlan, of the book Beyond the Fence Line: The Eyewitness Account of Ed Hoffman and the Murder of President Kennedy.
Brian Edwards is the co-founder of Project JFK.
Please follow and like us:
Podcast: Play in new window | Download