Please follow and like us: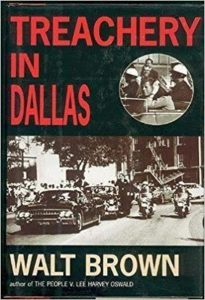 Walt Brown, PhD, the author of Treachery in Dallas, The People v Lee Harvey Oswald, The Warren Omission, and The Kennedy Execution, joins S.T. Patrick once again to discuss the JFK assassination. In tonight's episode, Brown discusses Dallas in 1963 as a "hostile environment," what Gov. John Connally screamed out in the car – and what it meant, the serious errors of the Dallas PD in the handling of the presidential trip to Dallas and the case itself, mortality and where his own research may go thereafter, how one maintains their zeal for the case in a field in which researchers often flee for long periods of time, and the column he wrote for garrison, the journal. Brown also addresses emails regarding his first appearance on the show and the curious case of Jay Harrison's files, computer and hard drives. Did he ever ask for them back? Walt Brown answers that, and the result thereof, tonight.
Also listen to Walt Brown's first appearance on the Midnight Writer News Show. That is MWN Episode 094.
Please follow and like us:
Podcast: Play in new window | Download