Please follow and like us: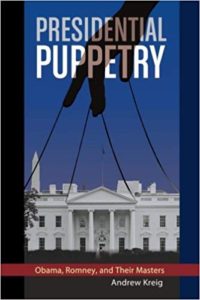 Andrew Kreig, the director of the Justice Integrity Project and the author of Presidential Puppetry, joins S.T. Patrick to discuss presidential politics of the last 40 years. What should we have known about George H.W. Bush, Bill & Hillary Clinton, George W. Bush, John Kerry, John Edwards, and John McCain? Krieg takes a non-partisan approach to dissecting the pros, cons, misdeeds, and motivations of American presidential and vice-presidential candidates, dating back decades. In the interview, Kreig covers the Bush dynasty, why Reagan chose Bush in 1980, Bush and the October Surprise, the Willie Horton ad, The Election of 1992, Ross Perot's deficiencies, what Fletcher Prouty still teaches us, the legitimacy of Bob Dole's 1996 nomination, the value of Jack Kemp, Bush v Gore, The Two Johns: Kerry & Edwards, the real John McCain, and much more. Kreig also discusses current events with us, including the Corsi/Stone vs Mueller situation and the unbelievable resolution of the Jeffery Epstein trial in Palm Beach.
Andrew Kreig can be read and followed at the Justice Integrity Project.
*****
Broadcast and lecture audiences can count on Andrew Kreig to deliver blunt, entertaining and cutting-edge commentary about the latest public affairs scandals, trends, and under-reported news, including about 2016 candidates and the nation's Deep State. He provides also practical tips for the millions of Americans caught up in unfair litigation or regulation. Based in Washington, DC, Andrew is a passionate and accomplished fighter for the public interest. He delivers to audiences a rare combination of insider revelations about current events, local scandals, national trends, and self-help for civic reformers and fellow researchers. Learn from his decades of reporting, analysis and advocacy: (1) Shocking tales of recent corruption, deception and cover-up by both parties in communities ranging from small towns to world capitals; and (2) Practical how-to tips for reformers on action that brings real-world results.
As editor of the non-partisan Justice Integrity Project, Kreig revealed to HuffPost Live! (as shown below) how Alabama deputies arrested, beat, and jailed without bond freelance journalist Roger Shuler on Oct. 23, 2013. Authorities held Shuler into the spring of 2014 on contempt charges for failure to spike his stories. On Fox News Talk Radio and CBS-affiliate WWL AM/FM, Kreig described how such procedures threaten readers and U.S. Supreme Court precedents on civil rights, with scant public notice or protest.  In fall 2014, C-SPAN cablecast a Kreig lecture regarding the truth about President Kennedy's murder.
Andrew draws from a trove of material in his acclaimed book, Presidential Puppetry. The first book on the Obama second term reveals devastating hidden histories about Washington insiders in both political parties.  Andrew argues that the same pattern of under-reported news is occurring in 2016 races, badly hurting the public. He reports true-life drama much like that on the TV hits Scandal and House of Cards, except it's all too true. His background includes 14 years as a metro newspaper reporter, plus degrees from Yale Law School, the University of Chicago Law School, and Cornell. He has lectured on five continents and is a frequent radio, TV and cable commentator. Who's Who in America and Who's Who in the World have listed him continuously since the mid-1990s. A former Golden Gloves regional finalist, Andrew shows how the public can fight back —but only by hitting hard at the right spots.
Please follow and like us:
Podcast: Play in new window | Download