Please follow and like us: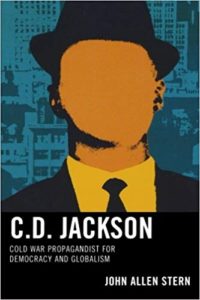 Author and Professor JOHN STERN joins S.T. Patrick to discuss Ike's Propagandist, C.D. Jackson, and his impact on post-World War II propaganda in America. Stern covers the influence of Nazi propaganda on America, the rise and beliefs of C.D. Jackson, Journalist and CIA official Thomas Braden, Walter Cronkite & Dan Rather, artist Jackson Pollock, why Ike wanted Jackson to criticize after McCarthyism, and the truth about involvement from Cord Meyer, Richard Case Nagell, and the Washington Post. Stern also discusses Johnny Roselli, the most famous draft dodger in Hollywood, the merger of culture and propaganda, Jackson's influence on the Nixon-Khrushchev "Kitchen Debate," Hubert Humphrey's call for concentration camps for Communists, Priscilla Johnson McMillan, the problems with the establishment, the Life magazine purchase of the Zapruder film, and more.
John Stern is the author of C.D. Jackson: Cold War Propagandist for Democracy and Globalism.
Please follow and like us:
Podcast: Play in new window | Download