Please follow and like us: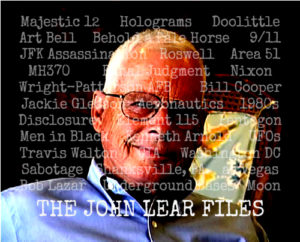 JOHN LEAR joined S.T. Patrick once again to discuss a wide range of topics including the passing of Art Bell and the odd question Bell once asked Lear. John Lear also discusses openly the single issue that tore apart their friendship of decades. John has spoken about his belief that the Apollo 11 craft did not get to the moon, and tonight he also addresses the relative silence of Neil Armstrong's latter years. Lear also talks about life on Mars, Apollo 14 astronaut Edgar Mitchell's comments about UFO's, life as a resident of Las Vegas, the Echelon Casino Hoax, the Las Vegas shootings, Yucca Mountain, the future of Area 51, the Aurora spy craft, Malaysian Airlines 370, the Middle East, and much more. This is Part II of The John Lear Files. For Part I, listen to episode 011 of the Midnight Writer News Show.
John Lear can be read and followed on Facebook, as well as at The Living Moon.
Please follow and like us:
Podcast: Play in new window | Download