Please follow and like us: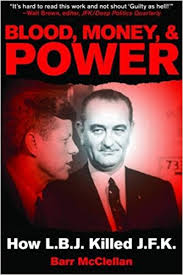 BARR McCLELLAN, the author of Blood, Money, & Power: How LBJ Killed JFK, joined S.T. Patrick to discuss LBJ's inner circle and how he came to learn about their involvement in November 22, 1963. All of the major names are discussed: Ed Clark, Don Thomas, Billy Sol Estes, Mac Wallace, Madeline Brown, etc. McClellan also speaks candidly about his associations with Jack Worthington and Gordon Ferrie. From his tenure on Johnson's legal team to Nigel Turner's The Men Who Killed Kennedy: The Guilty Men to the Murchison Party to the argument over seating arrangements in Dallas, McClellan explains what he knew and when he knew it. Join Barr McClellan on episode 062 of the Midnight Writer News Show tonight.
Barr McClellan's book, Blood, Money, & Power: How LBJ Killed JFK, can be purchased via Amazon.com, as well as many other fine booksellers.
Please follow and like us:
Podcast: Play in new window | Download