Please follow and like us: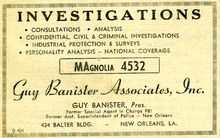 ROB CLARK, host of The Lone Gunman Podcast, guests hosts for the first time on the Midnight Writer News Show. Tonight, Rob brings us the story of Guy Banister. For those who have seen Oliver Stone's JFK, the role of Guy Banister was played by Ed Asner. Rob brings his sharp wit, vast knowledge, and smooth presentation to discuss one of the anti-communist men who surrounded Lee Harvey Oswald during his time in New Orleans. Rob will be hosting the Midnight Writer News Show quarterly. He will be doing something very special for us. He is going to present episodes that focus on one figure in JFK assassination lore. Tonight, it's Guy Banister. Next time, it's… well, it's a surprise. Rob will be back in June for more.
You can visit Rob's Lone Gunman Podcast by clicking here. You should add him to your iPhone podcast app, iTunes, Stitcher Radio or your favorite podcast app. You can – and should – also listen on his site. The archives are a wealth of JFK assassination information.
Please follow and like us:
Podcast: Play in new window | Download