Please follow and like us: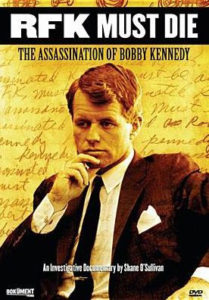 Filmmaker and Author SHANE O' SULLIVAN joins S.T. Patrick on the Midnight Writer News Show to discuss the 1968 assassination of Robert F. Kennedy. In this year, the 50th anniversary of the assassination, the world has a unique opportunity to shine a spotlight on the case. O' Sullivan, the director of RFK Must Die and author of Who Killed Bobby?, openly discusses his initial interest in the case, the problems with the crime scene at the Ambassador Hotel in Los Angeles, what Sirhan Sirhan did and didn't do that night, Sandra Serrano and the "Girl in the Polka Dot Dress," the motives of Detective Hernandez, hypnosis, the Manchurian Candidate theory, who Sirhan Sirhan is today, the state of Sirhan's case, and much more.
Shane O' Sullivan's documentary RFK Must Die: The Assassination of Bobby Kennedy can be purchased on Amazon. Who Killed Bobby? The Unsolved Murder of Robert F. Kennedy can also be found on Amazon. The RFK Must Die website can be found here.
(NOTE: For those who downloaded or tried to listen to the show in the first half hour it was released – March 6, 2018 from around 9pm to 9:30pm central time – we had an audio file problem that caused the show to end at the 9:21 mark. It should now be fixed. We apologize for any inconvenience. Please listen or download it again.)
Please follow and like us:
Podcast: Play in new window | Download