Please follow and like us: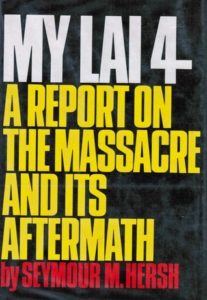 Journalist and author SEYMOUR HERSH visited the Center for Investigative Journalism (CIJ) in 2013 to discuss the breaking of the My Lai Massacre story on November 12, 1969. Hersh is a Pulitzer Prize-winning investigative journalist and contributor to both The New Yorker and the London Review of Books. Hersh wrote two books on the subject – My Lai 4: A Report on the Massacre and Its Aftermath (1970) and Cover-up: The Army's Secret Investigation of the Massacre at My Lai 4 (1972). It was the massacre that turned many against the Vietnam War. Hersh found that U.S. soldiers had massacred hundreds of unarmed civilians in a small Vietnamese village.
On the Midnight Writer News Legends Series, we will present important and noteworthy presentations from researchers who have made an impact on our community of truth seekers. The first episode of the MWN Legends Series was Episode 033 – Ralph Epperson and the JFK Assassination. We will continue this series monthly through 2018. We hope you will enjoy it as a tribute to those who paved the paths so that we may research today.
Please follow and like us:
Podcast: Play in new window | Download