Please follow and like us: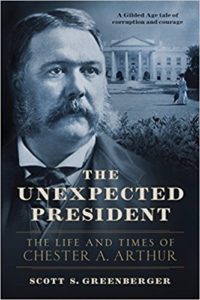 SCOTT GREENBERGER, author of The Unexpected President: The Life and Times of Chester A. Arthur, joins S.T. Patrick to discuss one of the most unlikely ascents to the presidency in American history. Greenberger answers questions about the nature of The Gilded Age, the Roscoe Conkling political machine in New York, an amazing legal case that will remind listeners of Rosa Parks nearly 100 years before, political hackdom, the fractured Republican conventions of 1880 and 1884, John A. Logan, the assassination of James Garfield, the rise and fall of political spoils, immigration debates that will ring eerily current,  and whether Greenberger feels the presidential performance surveys of historians have been air to Arthur. A relatively unknown part of U.S. history has now seen the light, thanks to Greenberger, so join us tonight on the Midnight Writer News Show.
Scott Greenberger is the author of The Unexpected President: The Life and Times of Chester A. Arthur. He is the coauthor, with former Senator Tom Daschle and Jeanne Lambrew, of the New York Times bestseller Critical: What We Can Do about the Health Care Crisis. Greenberger is currently the executive editor of Stateline, a news website funded by the Pew Charitable Trusts that covers state politics and policy for dozens of US newspapers. He was a newspaper reporter for twelve years, first at the Austin American-Statesman and then at the Boston Globe, and has also written for the New York Times, the Washington Post, GQ, Glamour, Washington Monthly, Moment magazine, and Washington City Paper. He lives in Takoma Park, Maryland.
Please follow and like us:
Podcast: Play in new window | Download