Please follow and like us: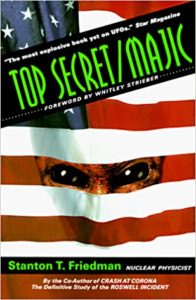 Nuclear physicist STANTON FRIEDMAN, author of Crash at Corona and Top Secret/Majic, joined S.T. Patrick to talk about the Roswell crash of 1947, Operation Majestic-12, the Betty and Barney Hill case, the Travis Walton "Fire in the Sky" case, the controversial Bob Lazar, and the likelihood of government disclosure. Friedman is one of the best-known UFOlogists in the world and had made many appearances on programs such as "Coast to Coast AM with Art Bell" and Larry King Live.
Stanton Friedman can be found at www.StantonFriedman.com. His books can be found on Amazon.com.
Please follow and like us:
Podcast: Play in new window | Download