Please follow and like us: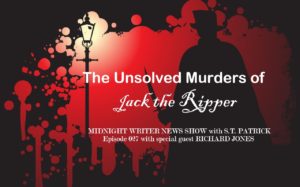 Ripperologist RICHARD JONES of RipperTour.com joins S.T. Patrick to discuss the Whitechapel murders that terrified London's east end in 1888. Jones covers each murder in detail, as well as the suspects that have been named by later Ripperologists. Who was Jack the Ripper? Hear Jack the Ripper's tale as you've never heard it before!
HAPPY HALLOWEEN 2017!!!
Richard Jones can be read and contacted at RipperTour.com
Please follow and like us:
Podcast: Play in new window | Download