Please follow and like us: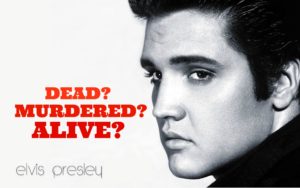 The "King of Rock & Roll" is gone, but did he OD? Was he murdered? Or is he alive and away from the spotlight? Steve Ubaney, Jason Myers, and Cynthia Hall join us on episode 016 of the Midnight Writer News Show with S.T. Patrick to discuss the demise of Elvis Presley on August 16, 1977. On this, the 40th anniversary of that date, there are still questions that have been unanswered and theories to be presented.
Steve Ubaney is the author of the Who Murdered…? series that has, to date, focused on Elvis Presley and FDR. Who Murdered JFK? will be released in 2018.
Jason Myers and Cynthia Hall have been researching the Elvis is Alive theory for decades, both with different views and different stories.
Please follow and like us:
Podcast: Play in new window | Download