Please follow and like us: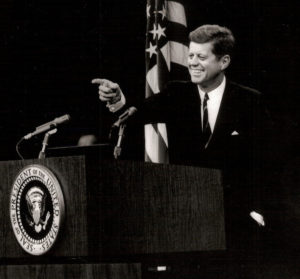 The 4th Annual JFK Assassination Conference: Day Three in Dallas
The final day of the 4th Annual JFK Assassination Conference in Dallas came to a close with assassination witness Beverly Oliver serenading the crowd with "God Bless the USA" and a rousing, unique version of "Old Time Rock 'N' Roll."
Before Ms. Oliver took the stage to discuss her story and end in song, the day progressed with a group of high-level presentations that added an immense amount of knowledge to the ongoing discussions that had been permeating the Crowne Plaza Hotel for three days.
William Warrick and Shane O' Sullivan began the day with two distinctly different presentations of the Robert F. Kennedy assassination. While Warrick discussed the autopsy evidence, O' Sullivan, the director of the RFK Must Die documentary, focused on the plight of Sirhan Sirhan's parole and his innocence in the murder.
Barr McClellan impressed many of the attendees by remaining highly accessible, conversational, and kind. McClellan was one of the few speakers make himself present and available in the ballroom for a vast majority of the three days. For someone who had both represented LBJ's interests from 1966-1971 while working through Ed Clark, McClellan brings with him anecdotes and experiences unparalleled by many. His presentation, "LBJ: Above the Law," focused on tales of LBJ, who he called "a mean man" and his belief that Billy Sol Estes deserves a pardon.
Political heavyweight and outsider of insiders Roger Stone next gave a powerful presentation that focused on politics past and present. Stone, a supporter of Donald Trump, stated his belief that Trump would be a positive influence on America because he was not beholden to special interests. He railed against Sen. Ted Cruz (R-TX), who he described as a "Bush family butt boy" who was "George W. Bush's brain." Cruz's wife, recounted Stone, is a Council on Foreign Relations member in favor of a merger with Mexico. The crowd erupted when Stone relayed the reason he believes many take an instant dislike to Cruz. "They are just saving time," Stone said. Stone used his time efficiently, packing information and opinions into nearly every line of his presentation. He believes researcher Joan Mellen is "a liar," believes one of the JFK shooters was Mac Wallace, and described CNN as "fake news."
Vince Palamara showed an uncanny amount of knowledge about the secret service, both on November 22, 1963 and since. His confident style and encyclopedic knowledge came across as credible and well-researched.
Sean Stone, documentary producer and son of Oliver Stone, was incredibly popular with the crowd. Stone, along with Jim Marrs and Dr. James Fetzer, drew the larges post-presentation crowds. He discussed all things New World Order with authority. The biggest compliment that can be given to Sean Stone is to say that he was his own researcher and many forgot that he was the son of the man who directed JFK.
Gordon Ferrie gave a presentation that was both interesting and controversial. He discussed the generals that he believed was involved as well as the mafia and deep state tactics. He did say that he believes two of the shooters to be Charles Nicoletti and James Files. The Files confession remains controversial with many.
Dr. James Fetzer, one of the most popular JFK and 9/11 researchers and authors, took the stage in his typical take-no-prisoners fashion and instantly criticized Ferrie's belief that Files was involved. Fetzer's presentation focused on the Zapruder film controversies, thus further showing that Kennedy's head absolutely jerks back and to the left. Fetzer has alienated some researchers and hosts with his brash style, but it is hard to deny Fetzer's knowledge and his oratorical skills. He was as convincing as anyone who spoke in the three days.
The 4th Annual JFK Conference in Dallas, Texas was an overwhelming success. The speakers and the attendees commented throughout that this was maybe the best conference they had attended. Rumors have arisen that there may be a similar JFK-RFK-MLK conference in May 2017 to commemorate JFK's 100th birthday. If so, the Midnight Writer News staff will be on-hand to being it to you.
Please follow and like us: