Please follow and like us: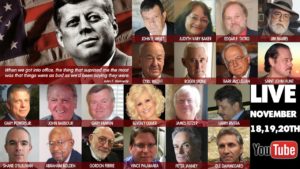 The 4th Annual JFK Assassination Conference is underway at the Crowne Plaza Hotel in Dallas, Texas. Day one of the event saw informative and entertaining lectures and presentations by the following researchers, witnesses, and authors.
Author Gary Fannin welcomed the crowd and reminded the crowd that a JFK Remembrance Ceremony will be held on November 22 from 12 pm to 1:30 pm at the Grassy Knoll.
Larry Rivera gave a fascinating explanation of the photographic "Doorway Man" evidence both explaining the techniques used in photogrammetric photography and its impact on the controversy regarding whether the Doorway Man was Billy Lovelady or Lee Harvey Oswald, both Texas School Book Depository employees with somewhat similar physical frames. Because the Altgen6 photo used in the controversy was taken as JFK's car was moving down Elm Street, if Oswald is Doorway Man, then he could not have been on the sixth floor of the Texas School Book Depository as the shooting occurred.
Chana Gail Willis gave a revealing yet moving profile of her father, Freddie Philmon Spainhouer. Willis' father was Naval intel and CIA. He confided to his daughter that he had known about the shooting before, during, and after. Spainhouer went so far as to even name "Wallace" as a shooter, a reference attendees understood as LBJ associate Mac Wallace. She believes that the photographic figure known to researchers as "Trenchcoat Man" could be her father.
Judyth Vary Baker discussed the photographs of Doorway Man and explained why she believes that pixelating photographs of Oswald's shirt proves that Doorway Man was Lee Harvey Oswald.
Stan Weeber gave a unique presentation entitled The Denton Connection. Weeber discussed five key figures in Denton, Texas in 1963, but the most interesting segment of Weeber's presentation was his discussion of Bill Moyers and the Denton ties of Gen. Edward Landsdale and Gen. Charles Cabell. Landsdale was the basis for the General Y character in Oliver Stone's JFK.
Saint John Hunt discussed his parents, E. Howard and Dorothy Hunt, in a way that was both comical and tragic. Hunt described his childhood as the son of not only one CIA spy but two, engaged in a relationship that Saint John all but says was a business (intel) partnership. He stated that he once even questioned if he and his siblings were just pawns in a façade. Hunt touched on his father's role in the Nixon administration and then in Watergate, before going back to discuss the death bed confession that E. Howard Hunt had made for his son before passing. In the confession, E. Howard Hunt described his role in Dallas on November 22, 1963 as well as naming others involved. Saint John Hunt received the most emotional response of the day, earning a standing ovation with many convention goers moved to tears.
Attorney Douglass Caddy, who represented Billy Sol Estes and the Watergate burglars, spoke about the involvement of LBJ and Mac Wallace in the murders of Henry Marshall, John Kinzer, and LBJ's sister Josephina. Caddy was a surprise favorite of the attendees as his presentation came of as direct, honest, and based only on information gathered while he was present. The involvement of LBJ in the cover-up and potentially the planning of the Kennedy assassination is a theme that has been popular in the past five years as well as this year's conference.
Edgar Tatro, a researcher with a verbose sense of communication both written and oral, energized the crowd of researchers in what could be described as a researchers' pep rally aimed at widening the scope of the JFK assassination research beyond the CIA. Tatro has a near-encyclopedic mind for the research and reportedly has over 1400 pages of written material prepared to eventually and potentially use as the basis for a book. Tatro, however, also writes horror fiction and may keep his writing to the fiction market. His presentation, however, was lively, informative, and pointed.
John B. Wells, host of the Caravan to Midnight late-night talk show, welcomed attendees in his role as the Master of Ceremonies. Wells also recalled his memories of the Kennedy assassination and the story's unique ties to his life.
Dennis David discussed the second coffin at Bethesda, the "missing" autopsy film, and the death of his friend William Pitzer. Two words rang throughout the crowd during and after his talk: "very credible." In what is often a tough crowd of researchers with varying beliefs, "very credible" is possibly the biggest compliment that can be given.
Judyth Vary Baker ended what was a successful first day by discussing her research of Pitzer's death and comparing that to the death of her friend David Ferrie.
Many of the conference's presenters have agreed to appear on the upcoming Midnight Writer News podcast that will be debuting SOON at midnightwriternews.com.
Day two has a powerhouse lineup of speakers that includes John Barbour, Jim Marrs, Dr. Cyril Wecht, Phil Nelson, Peter Janney, and Ole Dammegard. Day two will also feature witnesses to Judyth Vary Baker's relationship with Lee Harvey Oswald and a discussion of Oswald and the U-2 spy plane.
Please follow and like us: