Please follow and like us: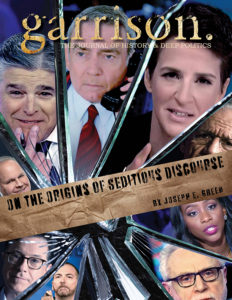 Issue 004 of garrison is now on sale on our Midnight Writer News Publications page at LuLu.com:
http://www.lulu.com/spotlight/MidnightWriterNews
228 pages. In this, the fourth issue of garrison.: The Journal of History & Deep Politics, we delve into the idea of what America believes and why they believe it. Joseph Green contributed the cover story, the brilliant "On the Origins of Seditious Discourse." New to garrison this issue are Elizabeth Lea Vos (Russiagate), John Potash (Jeffrey Epstein), Douglas Caddy (Watergate), Steve Ubaney (Was FDR Murdered?), J. Gary Shaw (Rose Cherami), and Adam Gorightly (Kennedy assassination research). Returning are Edgar Tatro (Lee Harvey Oswald), Jim DiEugenio (Watergate), David Ray Griffin (9/11), Jim Hougan (Richard Nixon), Kevin Ryan (9/11), Donald Jeffries (Natalee Holloway), Richard Bartholomew (JFK assassination), Randy Benson (Lee Harvey Oswald), Dr. Michael Chesser (JFK autopsy), and Walt Brown (JFK assassination). We also have coverage of the Iowa caucuses from both Caitlin Johnstone and Twitter nation.
The journal is available in both PRINT and PDF E-BOOK versions.
Thanks to all the contributors and all the readers! This is a group effort and everyone is important.
Please follow and like us: