Please follow and like us: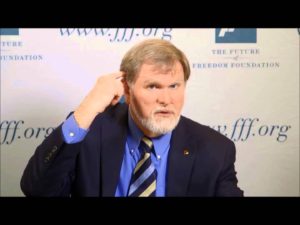 In an effort to counter Politico's new spin on the JFK Records Act documents currently being released, researcher and author Douglas Horne has made his presentation from the September 2014 JFK Symposium in Washington D.C. available to the readers of Midnight Writer News.
Horne told Midnight Writer News that "[His] 2014 presentation proves that any trustworthy 21st century forensic analysis would admit that the medico-legal foundation for Oswald's supposed "guilt" is so tainted and compromised that there could be no conclusion of his guilt at any trial today. If I am correct in this conclusion of mine, then the assertion made by Philip Shenon and Larry Sabato in their article on August 3, 2017 is indefensible, and demonstrably incorrect."
Horne's presentation, The JFK Medical Evidence: Inadmissible at Trial, is a pdf file that can be downloaded or viewed on the site.
Audio for slide # 75:  In these two audio excerpts, Walter Cronkite of CBS and Bob Clark of ABC both describe a car stop of JFK's limousine in these audio clips taken from TV broadcasts the day of JFK's assassination.  (Significance: there is no car stop seen in today's version of the Zapruder film.)
Audio for slide # 87: This is an excerpt from researcher Peter Janney's APR 2011 audio interview of Dino Brugioni while viewing frame 313 of the Zapruder film (the "head shot" frame).  Dino Brugioni was the Chief of Information at the CIA's NPIC facility (National Photographic Interpretation Center) in 1963, and he examined the original Zapruder film the evening of Nov 23, 1963—the day after JFK's assassination.  The head explosion he recalls examining in the out-of-camera original (unaltered) Zapruder film was much longer in duration, and went much higher in the air, than the so-called "head shot" in frame 313 of today's Zapruder film.
Midnight Writer News would like to thank Douglas Horne for the use of his presentation.
Please follow and like us: