Please follow and like us: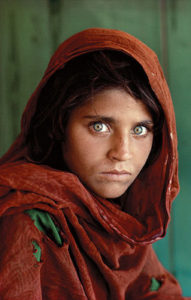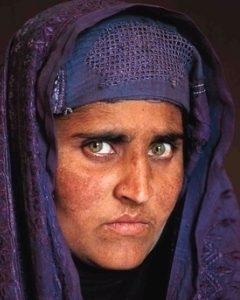 Sharbat Gula, better known as National Geographic's "Afghan Girl", was arrested in Pakistan this week for possessing a fake ID card. Pakistan's Federal Investigation Agency arrested Gula in the city of Peshawar where they found her during a residential raid.
Gula appeared on the cover of National Geographic in June 1985. Her deep green eyes, red headscarf, and intense stare were photographed by Steve McCurry in 1984. She soon became the symbolic face of the plight of refugees. The picture of Gula was taken in a refugee camp in northwest Pakistan during the Soviet occupation of Afghanistan (1979-1989). Her parents had been killed in the Soviet bombings.
Gula had been one of the students at an informal school in the Nasir Bagh refugee camp. The picture of Gula was titled "Afghan Girl," and she was known as Afghan Girl until being located and identified by name in 2002. The picture was named the most recognized photograph in the history of National Geographic. Gula had never seen the picture until it was revealed to her in 2002.
Pakistan had launched a government investigation of undocumented aliens two years ago. Information came to the FIA that Gula and her husband were operating within the country on false ID cards. Gula's husband is still evading Pakistani authorities. Gula and her husband had been trying to avoid returning to their war-torn home of Afghanistan. Three Pakistani officials have since been fired for providing them with false identification.
Gula is now in her mid-40s and is estimated to have been born in 1972. She is married to Rahmat Gula and has three children – Robina, Alia, and Zahida. McCurry said in a statement on Wednesday that he was committed to providing legal and financial support to Gula and her family.
Please follow and like us: